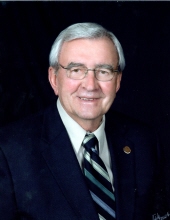 Obituary for David Waller, Sr.
David Stephen Waller, Sr., 84 died at his residence in Valdosta on Saturday, March 31, 2018. He was born on June 9, 1933 in Washington County, Georgia to the late James Ray and Annie Ruth Waller.
David's commitment to the Valdosta community began when he moved to the city at the age of nine and started delivering newspapers and serving customers on his 20-mile bike route. He graduated from Valdosta High School in 1951 after having played football for his beloved Wildcats. As a loyal supporter of the team and the school, he maintained a membership in the Valdosta Touchdown Club for over 50 years. Due to his energetic efforts on the Board of Directors, a three-time President and years as Treasurer, the Wildcat Museum at the Bazemore-Hyder Stadium was named the David S. Waller, Sr. Valdosta Wildcat Museum in 2011. Additionally, as a member of the Valdosta Board of Education for 21 years, he held the Chairmanship for 11 years.
David's years of service on a multitude of local and state boards, such as the Private Industry Council, may have been made most evident when the late Georgia Governor Zell Miller named him Volunteer Business Man of the Year in 1993. His 40 years of service to the Boys and Girls Club of Valdosta resulted in numerous national service medallion awards as well as numerous Jeremiah Millbanks awards. In 2011, a Valdosta Boys and Girls Clubs new downtown facility was named the David S. Waller Unit. Then, in 2014 he was installed as a member of the Boys and Girls Club of Georgia Hall of Fame. One of David's most valued life time goals was to help our youth reach their fullest potential.
Founding Waller Heating and Air Conditioning Company in 1963, David worked tirelessly long hours to ensure the company's success until his retirement in 1991. He wanted Waller Heating and Air to be one of the very best heating and air conditioning companies in South Georgia.
David joined the First Baptist Church of Valdosta in 1968 where he became an ordained Deacon and was also appointed Trustee. As the Property Chairman, he oversaw many projects including the new Children's Building and the Family Life Center. David and his wife Sharon made many mission trips to poverty stricken countries to help build churches and to spread the word of God. David truly lived a life of steadfast devotion to his community, his church, and his family.
David is survived by his loving wife of 64 years, Sharon, whom he married on April 19, 1953. Their family grew to include three children; Deborah (Ray) Herrmann, of Chattanooga, TN; Cynthia (Bill) Slaughter, and David (Pam) Waller, Jr., all of Valdosta. Five grandchildren; Dee Dee (Craig) Chmielewski, of Atlanta; Ivey (Betsy) Hughes, of Dahlonega; Chad (Kerri) Slaughter, Josh (Emily) Slaughter, and Miranda Waller, all of Valdosta. Seven great-grandchildren; Garrett Chesnutt, Nate Slaughter, Mason Slaughter, Sidnee Slaughter, Mollie Slaughter, Maddie Slaughter, and Davis-Townes Hughes. David is also survived by his sister Jeanene Fender, of Valdosta; brothers Glenn (Rabun) Waller of Harrison and Terry (Julie) Waller, of Pittsview, AL; and numerous nieces, nephews, and longtime friends. David was preceded in death by his parents as well as his brothers James Ray Waller, Jr. and Gerald Waller.
Funeral services will be held on Wednesday, April 4, 2018 at 2:00 in the main sanctuary at First Baptist Church with officiates Dr. Chuck Owens and Rev. Brian Gay. Interment will immediately follow in Sunset Hill Cemetery. The family will receive friends on Tuesday, April 3 from 5-7 pm at Carson McLane Funeral Home. In lieu of flowers, donations may be made to the Valdosta Boys and Girls Club, 215 W. North St. Valdosta, GA 31601 or to First Baptist Church of Valdosta or the Valdosta Wildcats Touchdown Club. Condolences may be conveyed to the family on the obituary page of www.mclanecares.com Carson McLane Funeral Home.
Previous Events
Visitation
Carson McLane Funeral Home
2215 N. Patterson St
Valdosta, GA 31602
Service
First Baptist Church of Valdosta
200 West Central Avenue
Valdosta, GA 31601
Cemetery Details
Location
Sunset Hill Cemetery
On Mary Street By Valdosta State University
Valdosta, GA