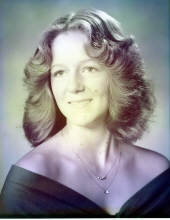 Obituary for Marsha Lynn O'Neal Courson
Marsha Lynn O'Neal Courson,53, of Valdosta died at her residence, Tuesday January 9, 2018 of cancer that she had been fighting for several years. Marsha was an outgoing vibrant person who would of rather be outside working with her hands then she would inside. She was always full of energy and ready for whatever life threw at her. Marsha always wanted to be a veterinarian, so she decided to raise and train bulldogs at her home, she loved animals of all kinds and they loved her back. Marsha was born on September 18, 1964 in Adel, GA. She graduated valedictorian of her class from Lanier County High School.
Marsha is survived by her loving and caring son Devan Courson, her mother and father Martha Nell and John Lane of Valdosta; her sister and brother-in-law Andrea Lane Smith and Kenny C Smith; her brother, Randall J Lane of Jacksonville; her nephews, Austin Lane Blaine Carver and Kennith (Bubba) Smith; her uncle and aunt Ron and Beverly Benefield; her grandparents; Johnny and Brenda Smith; her cousins, Nick and Gale Nixon, and many more cousins. Marsha is preceded in death by grandparents; Walter and Molly Benefield, and Rosalie Fender, her uncles Fred and Clyde Benefield, Raymond and Bernice Sellars, Carolyn and Robert Hughes, and Doris Benefield and Bonnie Brown.
A gathering will be held on Friday evening from 7-9 p.m. at About My Father's Ministry, 2533 N. Ashley St., Valdosta, GA, 31602. No formal services are planned for Mrs. Courson. Condolences to the family may be conveyed online at www.mclanecares.com. Carson McLane.
Previous Events
Visitation
About My Father's Ministry
2533 N. Ashley St.
Valdosta, GA 31602