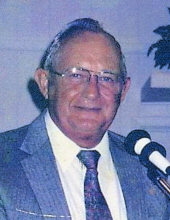 Obituary for Dr. D. Gene Wisehart
Dr. D. Gene Wisehart, born May 23, 1933, was called home to be with Jesus Christ, on Thursday, November 9, 2017, after an exhausting fight with cancer.
Survivors are his wife, Anna, of 63 years, and their children, Mickey and Julie Wisehart of Hahira, Kara Wisehart Shadrick of Richmond Hill, Danette and Ron Moore of Covington; grandchildren, Michael, John and Erin, Donny and Christina, Janelle, Danae and Blake, Maegan and Donald, Meredith and Brandon and Sgt. M. Logan Moore, BreAnna and Danny, and Luke Shadrick, four great grandchildren, Carter, Myia, Sadie and Addilyn; a sister, Doneilleen Isaacs. He was preceded in death by his twin brother, R. Dean Wisehart and wife, Edith, brother, Robert Wisehart and wife, Marion. The three Wisehart brothers were all Baptist preachers.
Born and raised in Russiaville, Indiana, Brother Gene was active in Cub Scouts and Boy Scouts. He served in the National Guard and the Navy before enlisting in God's Army in 1960. He, Anna, Mickey and Danette left Indiana in July of 1961, to attend TTU in Chattanooga, Tennessee, to prepare for the Ministry of Pastoring. His first church was in Lawrenceburg, Tennessee, and from there he was called to Valdosta to help start a new work. Brother Wisehart was used to organize Faith Baptist Church and he pastored the church for 33 years. His pastoring spanned many years, and included his on-air Radio Ministry of 40 years, with WJEM and WAFT. Through Faith Baptist Church, he founded Venture Faith Camp, reaching out to Juniors, Teens and Adults, and in 1969, his heart for children led to the opening of the doors of Faith Christian Academy.
In 2000, upon his retirement from pastoring, Brother Wisehart reinlisted and entered a Missions Ministry with HELPS, reaching across the water to bring National Pastors to the USA and to raise support for their work in their own countries. He continued serving the Lord faithfully until his home going, planning his HELPS Conference for September 2017 and making plans to lead out one more time.
Brother Gene Wisehart loved the Lord, he loved God's House and he loved to serve. At his retirement from the Pastorate, his daughter made a statement that sums up his life… "My Dad was consumed with the House of God."
A Celebration of Brother Wisehart's life and ministry will be held on Tuesday, November 14, 2017, at 11:00 a.m. at Faith Baptist Church, 2700 N. Forrest St., Valdosta. Final visitation for friends and family will be from 10:00 a.m. until service time at the church on Tuesday. Burial will follow at Cat Creek Cemetery. Condolences may be conveyed online at www.mclanecares.com. Carson McLane Funeral Home.
Previous Events
Visitation
Faith Baptist Church
2700 N. Forrest St.
Valdosta, GA 31602
Service
Faith Baptist Church
2700 N. Forrest St.
Valdosta, GA 31602