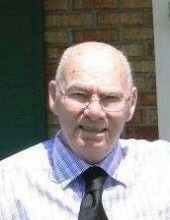 Obituary for Grover Bradley
Grover Bradley, 80, of Valdosta, passed away on Sunday, December 3, 2017 at his residence. Born on July 14, 1937 in Brundidge, AL to the late Grover Sr., and Rebecca Beachum Bradley.
He worked as a telephone cable installer for Southeastern Telephone Co and served his country in the U.S. Army during the Korean Conflict. Grover was also an avid fisherman.

Grover is survived by his daughter Donna Bradley of Valdosta, his daughter and son-in-law Sandra and Edward Mowery of Canton, OH, former son-in-law's Anthony Gross of Orlando, FL, Timothy Goodreau of Valdosta, GA; his grandchildren Kathleen Gross of Orlando, FL, Nicole Gross of Orlando, FL, Matthew Goodreau of Valdosta, Kyle Mowery, Billy Mowery both of Canton, OH, his sister-in-law Donna Straining of Harrisburg, PA, brother-in-law Harold Wisman of Providence, RI, his brothers-in-law and sisters-in-law Michael Wisman of Harrisburg, PA, Vicki Wisman of Harrisburg, PA, David and Mary Straining of Jacksonville, FL, Richard Amos of Jacksonville, FL and Evelyn Bradley and of Jacksonville, FL; several nieces and nephews. Grover was preceded in death by his wife Margaret, his parents, his daughter Linda Gross, a brother Cecil R. Bradley and a sister Mary Amos. Special thanks to Halcyon Hospice.

Memorial donations may be made in her honor to Halcyon Hospice, 101 E Northside Dr, #E, Valdosta, GA 31602. No formal services will be held for Grover. Condolences to the family may be conveyed online at www.mclanecares.com. Carson McLane Funeral Home.
Events