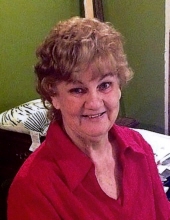 Obituary for Gloria Jernigan Luke
Gloria Jernigan Luke, 72, passed away on Sunday, December 3, 2017. Gloria was given to us on October 08, 1945. What a gift she was! She was married to her forever sweetheart, Lloyd Luke, on October 13, 1961. She is the love of his life and his best friend. They were inseparable and their love for each other affected generations. Both of their names were spoken together whether it be Mama and Daddy, Gloria and Lloyd, Nanny and Papa, or Aunt Glo and Uncle Lloyd. The two are one.
Homemaker and Mama was her full-time profession. She was the best at it. Her children considered her to be a strong woman that was loving, generous, thoughtful, gracious, compassionate, courageous. She was a protective mama that made all her children feel safe as her arms would wrap around them with hugs that only she could give. She was a guardian angel for the entire family. While words can be used to convey thoughts and feelings, some feelings are so deep they cannot be put into words. One thing is for sure, she loved her children well. She created a home away from home for her grandchildren. She provided unconditional love and unconditional support.
She attended Clyattville Baptist Church and served her Lord far beyond four walls. There are scriptures that she lived out daily without even trying or realizing. Hebrews says "without faith it is impossible to please God". She pleased God by her faith and she trusted Him even through her pain. "Do nothing out of selfish ambition or vain conceit. Rather, in humility value others above yourselves." (Philippians 2:3 NLT) She did this without blinking an eye or even having to think about it. "Love does no harm to a neighbor. Therefore, love is the fulfillment of the law." Romans 13:10 She loved everyone and tried to not only see the best in them, but to point it out. She was like the good Samaritan kind and helpful, instead of shying away from people. Her ministry was in living her life. Her mission field was any place she would venture.
She filled many roles as a wife, mama, nanny, sister, aunt, friend, and great human being. She had a bond with her siblings that was undeniable. She was a loyal and fun friend. As our Aunt Glo, she was everything we needed her to be. For all who knew her and loved her, the following says it all. "A hero is an ordinary individual who finds the strength to persevere and endure in spite of overwhelming obstacles. You aren't only a hero but an inspiration to us all."
Gloria is survived by her husband of 56 years, Lloyd Luke, her daughter and son in law Elissa and Billy Wayne Tomlinson, her son (Rusty) Clarence Lloyd Luke, Jr., and Mike DeLoach, her sons and daughters in law Dewayne and Tina Luke, Rodney and Rebecca Luke, her daughter and son in law Leslie and Stacy Brogdon, her goddaughter Sherry Croft, her grandchildren, Kenny Tomlinson, Chase Tomlinson, Michelle Stripling, Keven Luke, Shawn Dylan Luke, Rodney Luke, Jr., Zach Luke, Adair Luke, Destinee Fox, Luke Brogdon, and Taylor Brogdon, her great grandchildren, Braeleigh Stripling, Dallas Stripling, and Southern Luke, her sisters, Mildred Croft, Ava Nell Blanchard, and Dorothy Blanchard, and her brother and sister in law Wayne and JoAnn Jernigan. She was preceded in death by her parents Archie Daniel and Daisy Lee Jones Jernigan, and three brothers, Alfred (Buddy) Jernigan, Archie Jernigan, Jr., and Claude (Dub) Jernigan, and three sisters, Merle Blanton, Myrtle Coody, and Gladys Lofton.
Funeral services for Gloria will be held on Saturday, December 9, 2017 at 2 p.m. in the chapel of the Carson McLane Funeral Home, with Rev. Ron Burkhalter officiating. Burial will follow in Sunset Hill Cemetery. The family will receive friends prior to the service from 1-2 p.m. Condolences to the family may be conveyed online at www.mclanecares.com. Carson McLane.
Previous Events
Visitation
Carson McLane Funeral Home
2215 N. Patterson Street
Valdosta, GA 31602
Service
Carson McLane Funeral Home
2215 N. Patterson Street
Valdosta, GA 31602
Cemetery Details
Location
Sunset Hill Cemetery
On Mary Street By Valdosta State University
Valdosta, GA