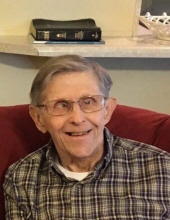 Obituary for Ward Lynn Segerstrom
Ward Lynn Segerstrom, 85, of Valdosta, passed away on December 2, 2017, at his home. He was born on March 22, 1932 in Ida Grove, Iowa to the late Myron Lloyd and Hazel Marshall Segerstrom.

Ward had many special talents and passions. In his early years he earned an Auto Mechanics degree from the Dunwoody Industrial Institute, in Minneapolis, Minn. He then was drafted into the Army, which at that time; he decided to join the Air Force where he was stationed at Moody Air Force Base in South Georgia. There he met and married the love of his life of 64 years, Yvonne (Bonnie) Luke Segerstrom of Nashville, Georgia. After the Air Force he opened the first Transmission repair shop in Valdosta in the early 1960's, Ward's Automatic Transmission. One of his greatest passions beyond his family was flying. He was a Certified Airframe & Powerplant licensed mechanic and a Certified Aircraft Inspector for privately owned aircraft. He was also an F.A.A. Flight Instructor. Through the years he built several of his own experimental aircraft. He spent many years working as an Independent Crop Duster with Ag Air Service.

He is survived by his wife, Yvonne, children and their spouses: Debbie & Johnny Ley of Quitman, Ga., David Segerstrom and Jennifer Creasy, Kathy & Perry Kolberg of Hahira, Ga., and Carol & Jack Bryant of Columbus, Ga. Grandchildren: John & Catharyn Ley, Pam & Jacob Sparkman, Rodney Anderson, Lydia Kolberg, Kati & Alan Mason, Lisa & Adam Eisenhower, Sarah Eberhardt and Kate Eberhardt. Great-grandchildren: Luke Ritter, Kyle Ritter, Megan Sparkman, Keaton Sparkman, Eli Sparkman, Laci Ley, Kaiden Mason, Adam Anderson, Abram Eisenhower, Gracelynn Eisenhower and Lucy Eisenhower. Sisters: Lois Jean Hesse of Dallas, Tx. and Shirley Bailey of Murfeesboro, Tn. as well as several special nieces and nephews. In addition to his parents he was preceded in death by a beloved daughter in law, Susan Riley Segerstrom, and his brother and friend, Lloyd Segerstrom.

Funeral services will be held at 11am on Tuesday, December 5, 2017 Northway Community Church, Valdosta, GA with Pastor Bill Blanchard, Rev. Mark Stone and Rev. Michael Bass officiating. Interment will follow in McLane Riverview Memorial Gardens in Valdosta. Visitation will be held on Monday evening at Carson McLane Funeral Home from 6-8pm . Those who wish to donate in lieu of flowers may do so with the building fund of Northway Community Church in Valdosta, Ga. at www.northwaycc.com or Bethany Hospice. Carson McLane Funeral Home.
Previous Events
Visitation
Carson McLane Funeral Home
2215 N. Patterson St.
Valdosta, GA 31602
Service
Northway Community Church
3740 Inner Perimeter Rd.
Valdosta, GA 31602
Cemetery Details
Location
McLane Riverview Memorial Gardens
3945 N Valdosta Rd
Valdosta, GA 31602