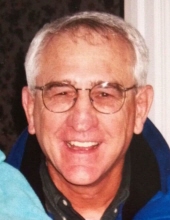 Obituary for Sampson Paul Stork
Sampson Paul Stork, 75, of Columbia, SC passed away Friday, November 10, 2017. He was born in Columbia, South Carolina on July 3, 1942 to the late William Spence and Anne Paul Stork. Paul was employed by Bell South/AT&T, serving as Vice President of centralized operations. He was an active member of Good Shepard Lutheran Church. Paul enjoyed fishing, reading, golfing and running, completing two marathons. He also enjoyed football and wrestling. He was a member of the 1960 Citadel Tangerine Bowl Championship football team and the 1961 Southern Conference Championship team. Paul won the NC state championship in wrestling for Myers Park High School in Charlotte and was named wrestler of the year for the state of NC in 1960. He went on to wrestle for the Citadel. Paul continued his passion for wrestling as a referee of the sport for many years. Paul also held the prestigious position of President of the International Dominoes Rules committee.
Survivors include his daughters and sons-in-law, Katherine and Chris Buescher, Anne and Jim Stewart; son and daughter-in-law, William S., III and Lindsey Stork; brothers and sisters-in-law, W. Spence, Jr. and Margie Stork, John C. and Lisa Stork, Joseph Lee and Cathy Stork; sister and brother-in-law, Marggie and Carl Bryngelson; grandchildren, Caroline, Elizabeth, Suzanne and Christopher Buescher, Alston and Sydney Stewart, Blythe and Spence Stork; and numerous nieces and nephews. He was preceded in death by his wife, Suzanne Rouse Stork and his parents.
An interment will occur on Tuesday, November 21, 2017 at 11 am at Elmwood Cemetery, 501 Elmwood Ave, Columbia, SC. A memorial service will be held following the burial at 1pm at Good Shepherd Lutheran Church, 3909 Forest Dr., Columbia, SC. The family will receive friends from 12-1 pm at the church. In lieu of flowers donations can be made to Good Shepard Lutheran Church. Condolences to the family may be conveyed online at www.mclanecares.com Carson McLane.