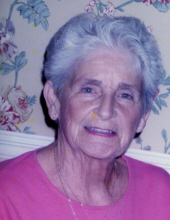 Obituary for Mary Lyndal King Ganas
Mary Lyndal King Ganas, 90, of Hahira, died Tuesday, November 7, 2017, at Langdale Hospice House. She was born in Rochelle, Georgia on February 18, 1927, to the late Edward Preston and Annie Bell Miller King. Mrs. Ganas was a Baptist. She enjoyed gardening, tending her kennel, and witnessing for her Lord Jesus Christ.
Survivors include her children, Wanda Green of Valdosta, Billy Ganas of Valdosta, Joe and Debbie Ganas of Valdosta, Joy and Stan Cowart of Hahira; a daughter-in-law, Ginger Ganas of Tifton, GA; her grandchildren, Jimmy Green of Valdosta, Terry and Suzanne Ganas of Warner Robins, GA, Thomas and Jenna Ganas of Tifton, GA, Will Ganas of Wheatridge, CO, Jordan and Jessica Ganas of Valdosta, Heather Ganas of Valdosta, Daniel Ganas of Valdosta, and Ben Cowart of Hahira; three great grandchildren, Tyson Ganas, Julie Anne Ganas both of Warner Robins, GA; Reenie Kaye Ganas of Tifton, GA; and her sister, Cordelia Zeigler of Cecil, GA; and numerous nieces and nephews. She was preceded in death by the father of her children, Terry L. Ganas, to whom she was married for forty years; a son, Tommy Ganas; and three sisters and three brothers.
Graveside services will be held at 11am, Saturday, November 11, 2017, at Burnt Church Cemetery in Lanier County. The family will receive friends on Friday from 5-7pm at the Martin/McLane Funeral Home, 401 S. Church St., Hahira, GA 31632. In lieu of flowers, memorials may be made to the Mailbox Club, 404 Eager Road, Valdosta, GA 31602 or to Langdale Hospice House, 2263 Pineview Drive, Valdosta, GA 31602. Condolences to the family may be conveyed online at www.mclanecares.com Martin/McLane Funeral Home of Hahira.
Previous Events
Visitation
Martin/McLane Funeral Home
401 S. Church St.
Hahira, GA 31632
Graveside
Burnt Church Cemetery
Burnt Church Road
Lakeland, GA 31635
Cemetery Details
Location
Burnt Church Cemetery
Burnt Church Road
Lakeland, GA 31635